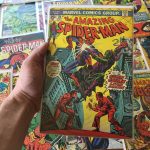 Spider-Man made his first appearance in Fantasy #15 released August 1962 as a minor character. It wasn't until March 1963 that the first issue of "The Amazing Spider-Man" was released… a series that would be one of Marvel's all time top sellers. The original, and longest running Spider-Man series is the "The Amazing Spider-Man" title. Throughout the years numerous other Spider-Man series have been released by Marvel:
"Peter Parker, the Spectacular Spider-Man" in 1976
"Web of Spider-Man" in 1985
"Spider-Man" in 1990
"The Sensational Spider-Man" in 1996
"Avenging Spider-Man" in 2011
"The Superior Spider-Man" in 2013
In April 2014 Marvel relaunched "The Amazing Spider-Man", starting with issue #1.
So, which Spider-Man comics are valuable? It depends on how old, how rare, and how popular that particular title is. The best way to see how much your Spider-Man comic is worth is to search Mavin and see how much it sells for online.